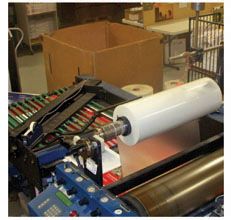 lam-i-nat-ing (lam-uh-neyt-ing) verb
. . . adds a high-luster gloss finish with maximum durability. A laminated product communicates quality and significantly adds to it's real and perceived value. A wide variety of finishes are available based on product use. Polypropylene films are the most economical, but are not as abrasion-resistant as polyester films. Lay-flat films are designed specifically to negate the effect of curl caused by moisture absorbed by paper. Glueable and stampable polyester films enable surfaces to accept foil stamping and promote gluing operations. All of these films are available in gloss and delustered (matte) finish. Most of the cost in film lamination is the film itself, therefore it is important to designate the exact coverage area required.
KEYS TO SUCCESS . . .
Film Types: Polyester, Lay-Flat, (Gloss or Delustered Finishes), Polypropylene
Film Gauge: 1.2-1.5 mil
TEMPLATES prepared by our pre-production department will help you design and position your artwork using appropriate bleeds, tab positions and knockouts.
WORK and TURN printing should be avoided in most instances in order to eliminate 2-sided coating.
SPECIFY type of film lamination material desired.
INKS low in wax or silicone should be use.
OFFSET SPRAY POWDERS should be used sparingly.
GRIPPER and SIDE GUIDES should be marked clearly on stack.
MARKED PRESS SHEETS, CONSTRUCTED BLUELINES, OR PREVIOUS SAMPLES showing desired lamination area should accompany order.
SPECIFICATIONS:
Gripper: 1″
Tail and Side Margin: 1/2″
Minimum Sheet Size: 10×17
Maximum Sheet Size: 30×40
Maximum Image Area: 35×39
Paper Weight: 100# text weight to 24 pt. Caliper Board