PRODUCTION ELEMENTS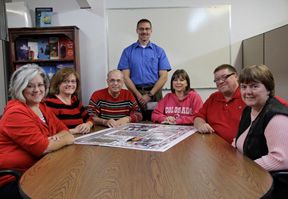 ORDERING:

Please complete a custom folder order form with each order or submit a purchase order with complete production and shipping instructions. Submit prior samples, if available, noting any changes to be made for the current order.

ARTWORK:

Positioning of art should be designated by cut marks or a supplied mock-up. There will be a typesetting charge for any type we must set.

MEDIA:

We can accept your artwork in either the native file or as a Print-Ready PDF. You may send a CD or Send a File.

PROOFS:

Four types of proofs are available. At least one of these is required on all jobs requiring either typesetting or design.

1. A PDF which can be viewed on your computer monitor. This proof is only as accurate as the color on your monitor.
2. A low resolution content proof to verify construction features, copy placement, and two-sided print imposition. These low resolution paper proofs are not indicative of the color that will be produced on press.
3. A digital inkjet hard copy proof created from the same RIP that will be used to produce your product. This proof is a close color match to you finished product. (Epson Color Proof)
4. A digital, contract proof which exactly simulates the color on your finished four-color product. (Fuji Final Proof)

Prototypes, press inspections or pre-production samples are also available. Changes made as a result of author's alterations at the proofing stage will require extra charges at an hourly rate.

CONSTRUCTION TEMPLATES:

When your job will use a standard cutting die, please ask for a digital template or download one from this site. It will be provided in EPS or PDF format. Use it to position your artwork, allowing for adequate bleeds. We can also provide custom templates for your projects.

If a template was not requested and your provided materials are not positioned correctly, additional charges may apply.

PRODUCTION TIME:

Most custom products are shipped in 7 to 10 working days. An order confirmation will be sent to you specifying the schedule for you project. Digital folders are shipped complete 4 days following receipt of all materials. Box pocket folders, ring binders and some custom packaging products require a minimum of 5 additional production days.

PAPER STOCK:

You can request a Dealer Kit. In it you will find a paper selection guide which shows the most popular paper choices. However, many other paper stocks are available. Products may be produced on any cover paper you select. Please specify by mill brand, paper name and color choice.

PACKAGING:

Standard packaging varies with the size and construction of your product. Some folders are shipped flat requiring final folding by you or your customer. Shrink packaging and other special packaging may be requested and are subject to additional charges.

RUSH ORDERS:

Charges for rush orders are based on the complexity of your order and your schedule requirements.

SHIPPING:

Shipments are normally sent by UPS, but large shipments may be sent via truckline. Please specify at order placement if you have a carrier preference.
DECORATION PROCESS
OFFSET PRINTING:

Prices listed are for offset printing using the Pantone Matching System®. All purchase orders must designate PMS® ink colors. Caution must be taken when printing ink colors which are lighter than the paper stock color you have selected. Full color reproduction of photographs can be achieved by the use of four-color process printing. 100% size CMYK digital or scanned images must be provided or additional charges will apply.

HEAVY INK COVERAGE:

Ink coverage greater that 40% is considered heavy coverage and requires an additional charge. Special coatings should be considered. When printing a large solid background in conjunction with screened areas or photographs, a double-hit may be required to achieve best results.

SECOND SIDE PRINTING:

Printing on the inside of a folder (the area above the pockets) requires an additional charge.

FOIL STAMPING:

The Foil Selection Guide shows the most popular foil choices. Avoid fine detail or type smaller than 10 point. Ask you customer service representative for other foil options.

EMBOSSING:

Raised round single level embossing is quoted unless otherwise specified. Paper may be blind embossed or embossed with register to foil stamping or offset printing. Please specify at the time of quotation which type of embossing your folder requires. Avoid fine detail or type smaller than 10 point. Combination dies, multi-level dies and sculptured dies require custom quotations with submission of proposed artwork.
COATINGS
AQUEOUS COATING:

An economical water-based coating that enhances gloss and rub resistance. Applied in-line, we recommend aqueous coating for all coated stocks. It is particularly desirable when printing large, solid ink coverage or screened areas. Unlike varnish which yellows over time, aqueous coating remains clear. Aqueous coating is available in varying levels of gloss and as a satin or matte. Dramatic results can be achieved by combining gloss aqueous with a spot matte coating. Gloss aqueous coating is included on all coated stocks.

PRESS VARNISH:

A solvent-based coating applied to coated sheets to enhance gloss and add protection.

FILM LAMINATION:

Polyester film lamination can be applied to all of our paper stocks. Its heat application provides maximum durability with minimum curl. It is glueable and stampable for superior finishing properties. Film lamination is available in both gloss and matte (delustered) finishes.