TEMPLATES have been prepared to aide you in the exact placement of your design. All the templates are created in a spot color named "Rule-up" which is set to overprint, the template will be removed in the final production stages and will not print on your final product. The black marks outside the print area are cut and fold marks necessary for production. These marks should not be removed or colors changed. If you have a new custom design and have requested a prototype, we will provide a corresponding template for the design.
USE THE TEMPLATE PROVIDED TO YOU WHEN YOU SUBMITTED YOUR QUOTE OR PURCHASE ORDER.
Keep the template grouped and on its own layer. Add your art to a separate layer in Adobe® Illustrator; OR "place" it ("get picture" in other programs such as Quark) on its own layer to build your art. Do not alter this template. You may safely leave this template in your native file. If no alterations have been made, the template will not print in the finished product.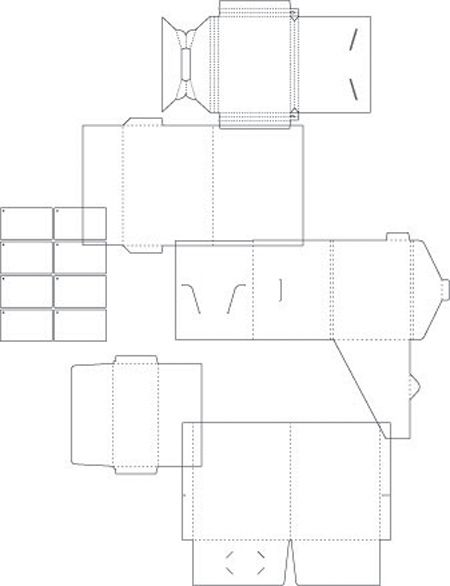 HELPFUL HINTS:
QUARK®:
If the template is not transparent:
1) Select the template
2) Go to "ITEM" then "RUNAROUND"
3) In the "TYPE" pull down menu choose
"NONE"
Always use the correct font. Instead of adding stroke to a thin typestyle to achieve a bolder effect, use the Bold version of the font. Or instead of using the Italic button in the stylize pallet, use the actual Italic font.
INDESIGN®
If your template is not transparent in InDesign: Go to "VIEW" and select "OVERPRINT PREVIEW"
PDFs:
If you plan to send a PDF make sure you have printed separations or clicked "preview separations" to confirm desired results.
Zoom in close enough to make sure all artwork is placed correctly in relation to cuts/scores. Add 1/8 inch bleed beyond cuts. As a further check you may want to print a laser (full size or miniature) and cut/fold it to ensure that you are pleased with the results.
PROMOTIONAL RIGHTS:
Precision Line reserves the right to show samples of work produced for its own promotional purposes.