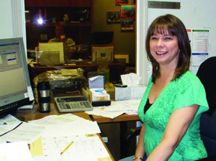 SMALL PARCEL CARRIER
ESTIMATED DELIVERY SECHEDULE
Refer to the map for estimated delivery time, in days, from the date of shipping at the factory. For example, a small parcel shipped on Monday can be expected in St. Louis, MO or Kansas City, MO on Tuesday. Folders shipped on Monday to Florida would be scheduled to arrive on Thursday, three days after leaving our factory. If you have questions concerning selected carriers, pricing, shipping requirements or package weights, call the Customer Service line (800) 972-7702.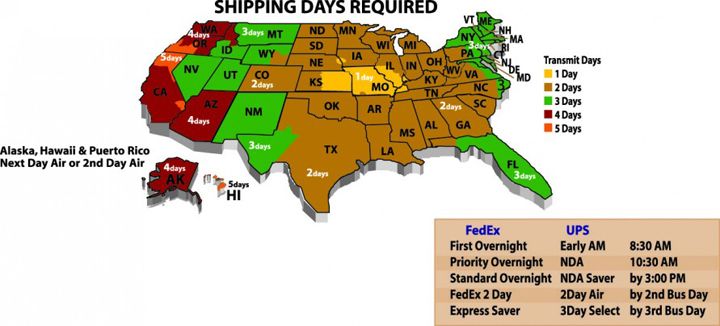 SHIPMENT METHODS

Shipments up to 500 lbs. will generally ship via small parcel carrier. Larger shipments may travel motor freight.

INSIDE DELIVERIES

Additional charges for inside delivery may be required for shipments delivered via motor freight. These charges will be invoiced separately.

EXPEDITED SHIPPING

Air freight can be arranged to meet extraordinary deadlines. This service must be specified and advance quotations are recommended.

C.O.D. SHIPMENTS

Available only when shipping direct to the dealer. Add a $10 service charge, plus shipping carrier C.O.D. fees.

INCORRECT "SHIP TO" ADDRESS

Charges for address changes due to incorrect "Ship To" address will be invoiced separately.