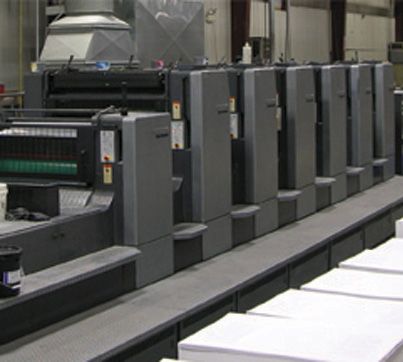 Li-thog-ra-phy (li-thog-ruh-fee) noun
1. A method of printing from a metal or stone surface on which the printing areas are not raised but made ink-receptive while the non-image areas are made ink-repellent.
Well, we don't print from stone surfaces in our press room. As a printer to the trade, we maintain a standard of excellence in equipment and processes that commands consistent quality. Our G7 certification and closed loop technology that runs from prepress through print production guarantees the proof you approve will be matched on our Heidelberg CD offset equipment. State-of-the art CTP workflow guarantees excellent, sharp images from lightweight paper to 24 pt. caliper board stocks.
Heidelberg 6-Color CD-102LX
The flexibility of this all-rounder 6-color offset press makes it the success story of the 70 x 102 cm (27.56 x 39.37 in) format. The installation of an in-line Tower coater brings rub-resistance and gloss (or matte) coating to each press sheet without extra time and money, all this at speeds of up to 15,000 impressions per hour.
SPECIFICATIONS
Gripper: 1"
Tail & side margin: ½"
Minimum Sheet Size: 17 x 20
Maximum Sheet Size: 28 x 40
Maximum Image Area: 27 x 39-1/2
Paper Weight: 50# text to 24 pt. Caliper Board